This coming Monday, February 17th is a bank holiday. We will be open but no money will hit your bank that day.
Wires processed Monday will hit your bank TUESDAY
ACH processed Monday will hit your bank WEDNESDAY
EFS will function as normal. A benefit to the Sunbelt EFS discount card is that we can still fund you same day even when the banks are closed! So, sign up for a fuel card, if you have not already done so.
To apply today, fill out this online application by visiting: https://onlineservices.secure.force.com/creditapplication/otrBOCA?pgm=sun.
If you wish to have us fund your fuel card from your advances, please select Prepay in the Payment Information section. Otherwise your credit will be run.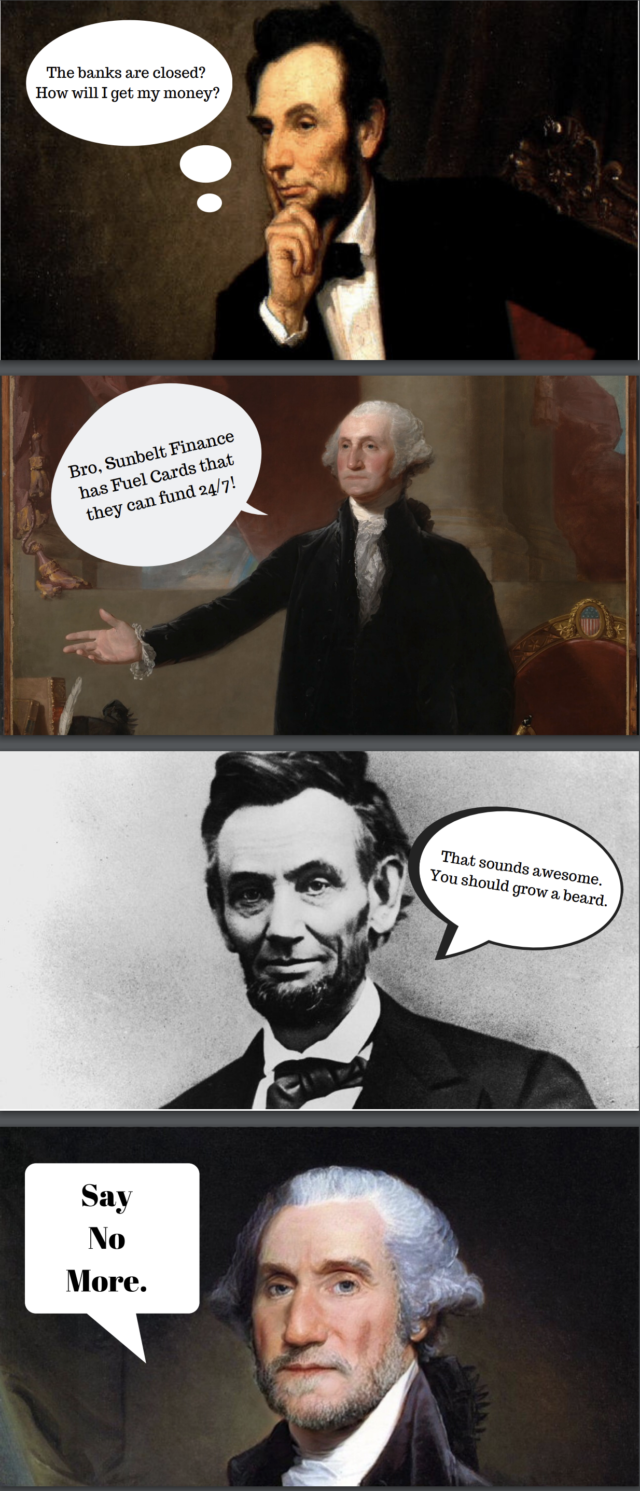 Why the Sunbelt EFS Fuel Card is Right For Your Fleet:
Universal acceptance at over 6400 fuel stops in U.S. and Canada
24/7. No ACH waiting time, no wire fees.
Fuel discounts at over 1900 locations – retail minus of up to 10 cpg and cost plus deals saving an average of $.15/gallon:
Retail Minus: Pilot/Flying J ($0.10), Loves ($.055), TA/Petro ($0.10)
Cost Plus Discounts: Sapp Bros, Wilco, Ambest, QuickFuel, Speedway, Kangaroo, Kwik Trip, Maverik, Petroleum Wholesale…. Savings as high as 20 cpg
Free online card maintenance and account management tools, including reporting and fuel pricing.
24/7 customer service availability
No minimum usage requirements
Low, simple transaction fees
Please contact us with any questions or concerns. You can also reach out to our EFS Client Relationship specialist:
Renee High
Relationship Manager Strategic Partners
Electronic Funds Source | EFS, LLC
7130 Goodlett Farms Pkwy Ste 100 East
Cordova, TN 38016
(901) 474-0819(p)
(801)-624-3049 (F)
Thanks!

We ❤ Referrals! Please feel free to forward my contact information to your referral!
Bobbie Busby |  Sunbelt Finance LLC
Phone: 870-336-0740 | Fax: 870-336-3084 | [email protected] | www.sunbeltfinance.com
2900 Browns Lane | Jonesboro, AR 72401
Payment address: PO Box 1000 Dept. 144| Memphis, TN 38148-0144